Kixie Always Syncs to the Contact First:
Depending on how the call was initiated, there are two ways that Kixie will find a person to sync to…
DirectSync For click-to-calls made to a contact from inside a contact's page, from a contact list-view, from inside your Task Queue, or from inside the Deal page, Kixie will sync the call directly to that contact.
Normal Sync For SMS messages and calls that are made or received in any other way than above, Kixie will search your HubSpot contacts for the contact whose default phone number field(s) yields a match to the phone number, and then automatically push the call or SMS activity inside of that contact. If there are multiple contacts that yield a match, Kixie will sync to the most recently-created of those contacts.
That call activity will always look like this: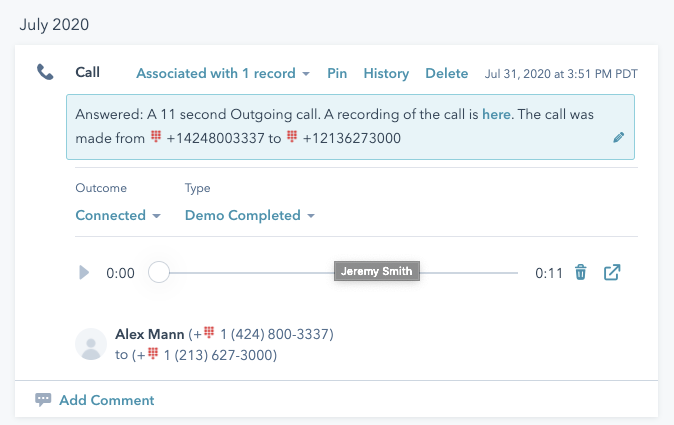 From there, Kixie will also sync that same call activity up to the contact's company (if any) and all deals (if any).
SMS Message Integration
Kixie will utilize the Normal Sync method described above to log incoming and outgoing SMS messages into HubSpot, and it will create a Task inside the HubSpot contact like so: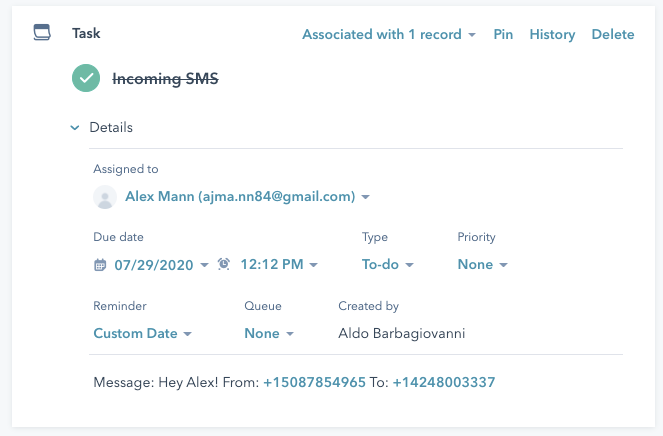 Automatic Contact Creation
If you are calling/being called by a phone number that is not associated with a contact in HubSpot CRM yet, Kixie will automatically create one inside of HubSpot CRM, and sync calls to it.
*This feature may be disabled for your whole account if you so choose, inside "Manage Account" in the kixie.com dashboard.
Automatic Open Call Task Completion
For all the calls you make, Kixie will look for the oldest call task on the contact you're calling, and mark it as complete once the call is over. More details on this here.
Auto-SMS and Auto-Call out of HubSpot Workflows
Auto-SMS

: sending an auto-SMS through the HubSpot contact owner to the HubSpot contact's phone number

Auto-Call

: sending a call to the Kixie PowerCall dialer of the HubSpot contact owner with a Display Name message that gives them context that it's an auto-call (i.e. "Email Opened Auto-Call"), and upon the rep's acceptance of this call, triggering a call out to the HubSpot contact's phone number. The rep will see the HubSpot contact info in their Kixie PowerCall
Using Custom Phone Fields with Kixie
Kixie can sync calls with Hubspot custom phone number fields. In order to do this, the phone number field must:
Initially, contain "phone" (or "Phone")


After initial setup of the "phone" field, you can modify the name to whatever you would like.
For Kixie-HubSpot Best Practices, complete with a video demo, click here!
14
8
Was this article helpful?
11 out of 14 found this helpful