After every call you will have the option to log a call outcome and/or call type to HubSpot from the Kixie dialer.
Call Outcomes

Out of the box, Kixie will only sync w/ the default call outcomes listed below, which will appear inside of Kixie.com->manage->dispositions. If you would like Kixie to sync with a customized list of HubSpot call outcomes from your account, please reach out to your account manager or support@kixie.com to facilitate this.
No answer

Busy

Wrong number

Left live message

Left voicemail

Connected
Call Types

Out of the box, Kixie will automatically sync with your HubSpot account's list of Call types.
How to log a Call Outcome and Call type
By default, the "Outcome" window shown below will pop out after the call ends

You can enable/disable this functionality in Kixie PowerCall settings->Require Outcome

If your "Outcome" window disappeared, press this button at the top of your dialer:

Unless/until your Kixie PowerCall dialer is refreshed, the Call Outcome field will always pre-populate the last Call Outcome you selected.

The Call Type field will always pre-populate to "None".

If "Note" is selected as the Call Outcome, then only

a note will be logged, regardless of whether a Call Type is selected

.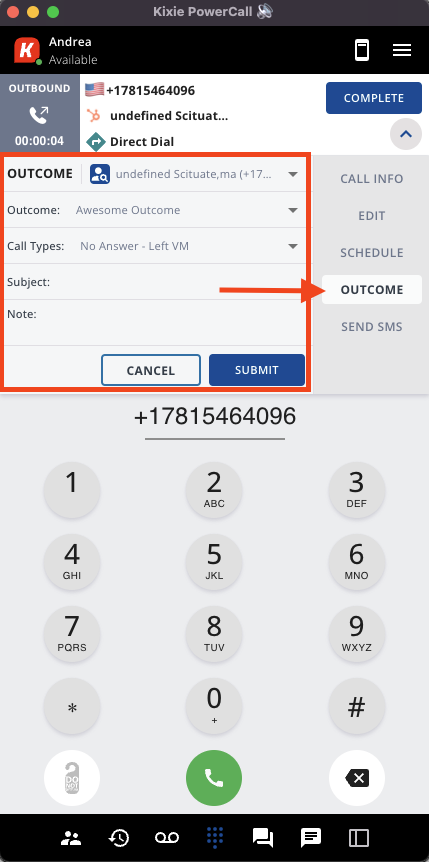 For questions about this, please email support@kixie.com and/or reachout to your Account Manager for more information.
2
-2
Was this article helpful?
0 out of 2 found this helpful