Here's a Video Walkthrough of the Kixie PowerCall Dialer:
(Are you a manager needing to add a new agent? See this article: How to Add a New Agent in Kixie)
Logging into Kixie
Open a new tab in Google Chrome.

If you don't have Google Chrome, you can download it for free here.

Go to app.kixie.com/login
Log in with your Kixie email address and password.

You can find those by searching "Important: Your Kixie Account Setup Information" in your email inbox (or spam). If you can't find this email, follow up with your manager to see if you've been added to Kixie yet.
To change your password, simply click Forgot/Change Password. A link to reset your password will be sent to your email. If you don't see the reset password email, check your spam – it sometimes ends up there.)

Once you've logged in, you'll arrive at the Kixie Dashboard.
View/Add your new Kixie phone number
Click on "My Profile" in the menu on the left side of the page
Then click on the "Numbers" tab

If you already see a number there, then your manager added it for you, and you can skip to step 7.
This is your number to make/receive calls and text messages with Kixie. When called, it'll ring to your direct line and Kixie voicemail. 

To add a new phone number for Kixie, click "+ ADD"




Enter the area code you want for your number.
Click "Search for Number"
Select a number from the list of available numbers by clicking "Buy".

Even though it says $5 for the price of the number, each user on Kixie gets one local US/Canada number for free. So your first number charge is automatically waived.
There is a maximum of two free numbers on the free trial. 

Click on "Edit," to set your Outbound Caller ID to your new phone number if it hasn't been already, and click "Save". The Outbound SMS Number will already be set to your new number.

Note

: If you have the Connection Boost add-on and Connection Boost is toggled ON in your PowerCall settings menu, then your Outbound Caller ID number will be overridden by a Connection Boost number on outbound caller ID. Just toggle Connection Boost OFF to use your Outbound Caller ID number instead of Connection Boost.


Install the PowerCall Dialer
Install PowerCall Dialer


Log in to the Kixie PowerCall using the same email and password you used for the dashboard, and click "Allow microphone access" when prompted. (Hit "Block" by accident? See this article)
Setup your Audio Device in PowerCall
Connect your preferred audio device: make sure your preferred audio device is plugged in and turned on. You will be automatically prompted to select an audio device after you login to the dialer for the first time. If you don't see your headset in the list of devices, click the "Refresh List" button. (Note: We recommend using a headset that connects to your computer via a wired USB connection or a USB Bluetooth dongle. Don't have a headset? See our list of recommended headsets here.)
Once your audio is set to your preferred input/output, click through to the next screen.
Connect your CRM in PowerCall
Connect your Kixie PowerCall to your CRM account to enable bi-directional integration of calls and texts.
From Kixie PowerCall, click the Settings menu -> CRM -> Add, or see here for visual instructions.
Dialer Features: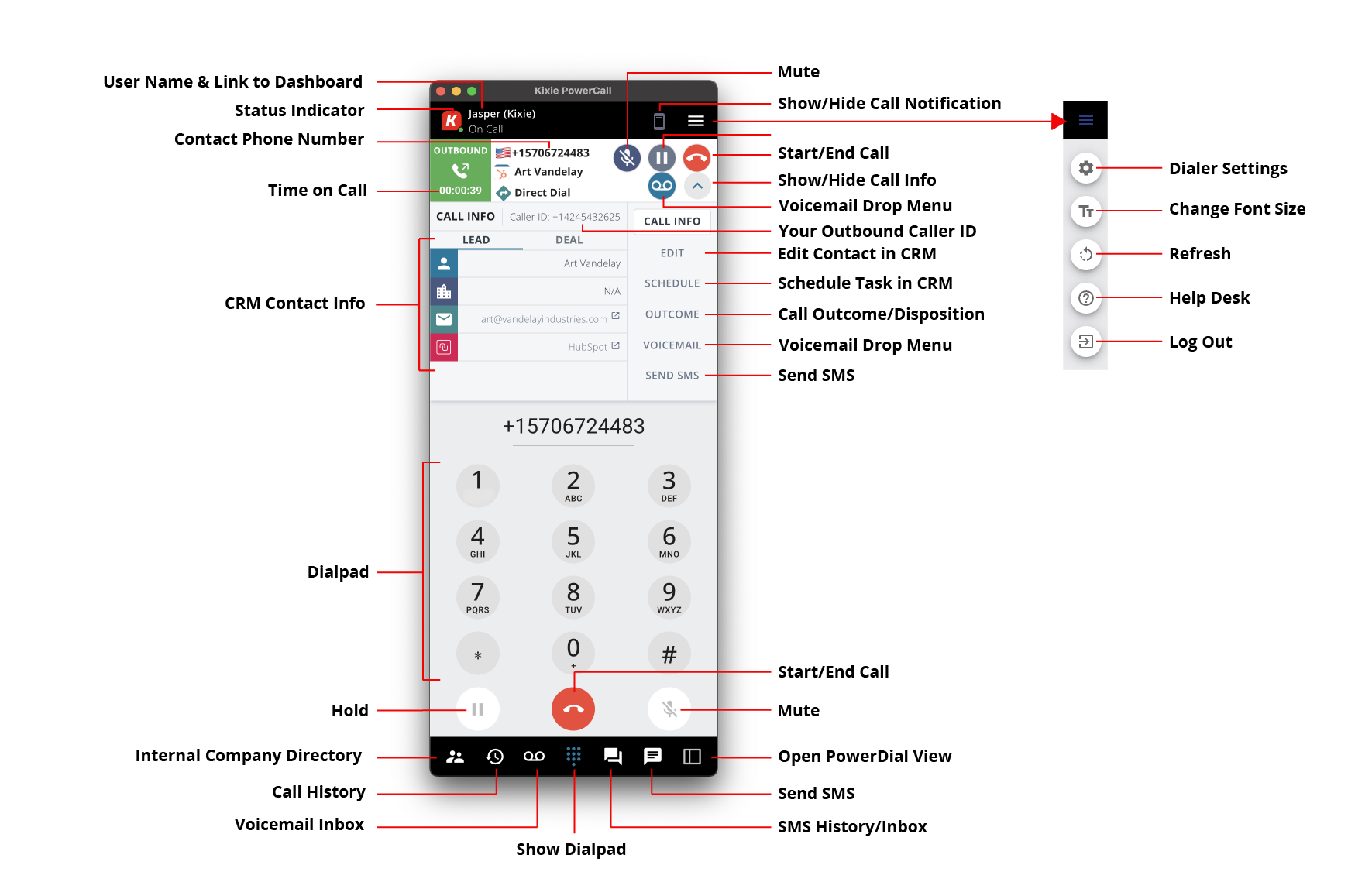 Additional Setup Guides:
16
2
Was this article helpful?
9 out of 16 found this helpful