With SMS Templates on the Professional plan, you can auto-populate and personalize SMS messages to your prospects, then edit as needed before sending. In order to use SMS, you must first have an SMS number.
Video Walkthrough
Click the video below for a video walkthrough of setting up and using SMS Templates.
SMS Templates FAQs
How do I create an SMS Template
Go to the Kixie Dashboard
Click My Profile
Click Agent Settings
Click SMS Templates
On the SMS Templates page, click Add New
On the modal that opens:

Enter a Name
Enter a templated message in the Template field

Note: 512 is the character limit for message templates
Note: If your CRM is connected and supports enhanced fields, you will see a list of fields at the right to select from and use in your template.

When finished, Click Save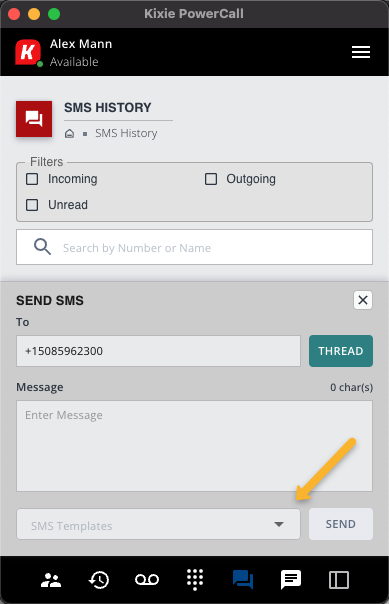 How do I use SMS Templates?
Open Kixie PowerCall
Click the Send SMS tab at the bottom of the window
Confirm a number has populated -or- enter/select a number in the To field
Click the SMS Templates dropdown at the bottom of the dialog

Note: If your SMS Templates aren't showing or updating, try refreshing the extension via the Options menu (top right)

Click to select your SMS template
The template auto-populates in the message field
Make any edits needed or desired
When ready, click Send
When does it make sense for me to use SMS templates?
If you find that you are sending the same message over and over to customers via SMS (e.g. "Hey, please call me back when you get the chance at..." or "Sorry, I can't talk right now..."), then you would benefit from SMS templates.
How do I get a person's name into my SMS template?
Kixie offers personalization tags for first name, last name, and a number of other fields synced to your company's CRM. An example for how to include your contact's name:
First name: Type [fname] in your template
Last name: Type [lname] in your template
Additionally, you can use the custom field selection in the Add/Edit modal for SMS Templates and click to select a custom property to add to your template
Note: When clicking to enter an SMS Template in Kixie, you will see these shorthands update in real time. If they don't update, they will continue to appear as [fname] (or similar) and these will be sent in that format to your contact. Please double-check that the shorthand has updated before sending your message
How do I avoid my contacts and customers blocking my texts?
Avoid using link shorteners like bit.ly or tiny.url, since receiver carriers tend to block them
Avoid sending the exact same message repeatedly. Include the person's name in your message to add personalization
Avoid sending texts over 160 characters
Avoid sending more than 200 texts per day to a given mobile carrier
View more best practice tips here
How can I get my manager to setup auto-SMS?
It might make more sense to automate the sending of certain SMS templates, instead.
As soon as a lead enters the CRM and gets assigned to me → auto-send a welcome text from me, so I don't have to think about it
Ask your manager about setting up Auto-SMS. You may be able to think of plenty of other use cases as well!
More info on auto-sms (and auto-call) here
68
28
Was this article helpful?
48 out of 68 found this helpful