Logging Call outcomes and meeting types with Kixie and Hubspot
How to log a Call outcome and Call type
After every outbound/incoming call you will have the option to leave a call outcome and call type.
We recommend setting your Kixie dispositions to the below, so that Kixie will automatically update the HubSpot call outcome inside the call activity.
No answer
Busy
Wrong number
Left live message
Left voicemail
Connected
Kixie will also pull in your HubSpot account's list of Call types, so you can log both a call outcome and a call type after a call is over. Call types are ideal for using as triggers for your workflow automations in HubSpot, since you can use more than just the 6 default call outcomes.
How to log an outcome and call type:
By default: Outcome field will populate to the first outcome on your list of 6 and call Type will default to None after every outbound/inbound call.
After selecting an outcome, the call Outcome field will populate to the last outcome selected (i.e Connected in the example below) until your Kixie PowerCall dialer is refreshed.

Call Type will always populate to None.

A call type is not required to log a call outcome.

When logging a call type, a call outcome will always log.

If 'Note' is selected as the call outcome, a call meeting type WILL NOT log/update to your previous call made.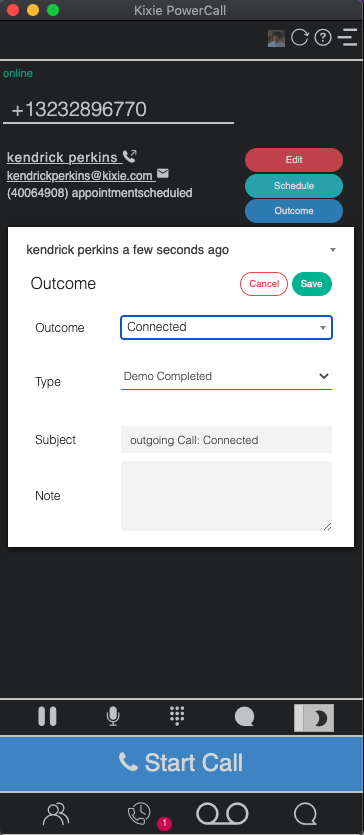 We can help you build these automations and filters in Pipedrive and other CRMs.
For questions about this, please email support@kixie.com and/or reachout to your Account Manager for more information.
3
3
Was this article helpful?
3 out of 3 found this helpful