You can trigger an automatic email to be sent out through Zoho in just a couple of clicks by logging a call outcome​ from the Kixie PowerCall dialer. One common use-case for this functionality occurs when sales prospectors are unable to connect with their leads over the phone and want to drop them a ​pre-recorded voicemail​, send them a ​Kixie SMS template​ and also a ​Zoho email template​ as efficiently as possible.
The Mechanics:
Here's how to set up the Zoho Worfklow:
Go to Setup > Automation > Workflow Rules.

In the ​Workflow Rules​ page, click Create Rule.

In the ​Create New Rule​ pop-up, do the following:

a. Select the Module ​Task​ from the drop-down list.

b. Enter the Rule Name and Description. Click Next.

When asked When do you want to execute this rule, select ​Create​. Next.

Now it's time to specify the conditions!

Select ​Subject​ in the first dropdown menu.

Select ​Contains​ in the second dropdown.

Copy/paste the Kixie disposition which will trigger the email follow-up. Make sure

the disposition subject that is logged into Zoho as a task matches what is being

copied/pasted into this section of the workflow.

In the Actions section, do the following:

Send Follow-up Email Instantly:​ Choose recipients > select ​Customer​ ​> Select the Email Template you wish to send.

Schedule a Follow-up Email for Later:​ Choose recipients >Select the Email Template you wish to send > Schedule when the email is to be sent.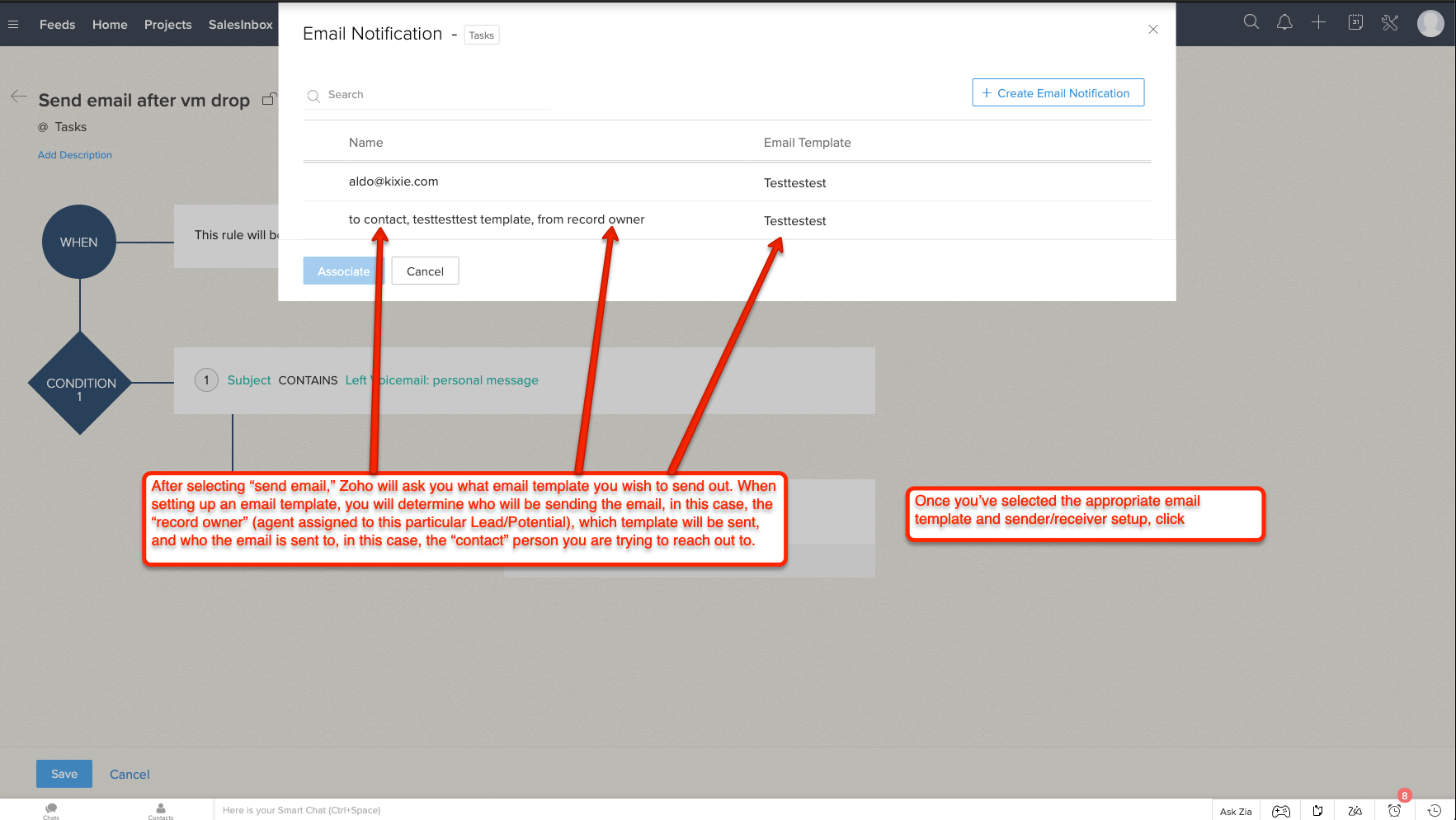 7. Once the Action step is set, just click "Save" in the bottom left corner and you're done.
Congratulations, you've just created a Zoho workflow!
4
4
Was this article helpful?
4 out of 4 found this helpful