This article will review your options for controlling call recordings for your Kixie account.
As shown below, inside Kixie.com -> Manage -> Account Settings, you may toggle call recordings ON or OFF for your entire account, and no calls will record going forward.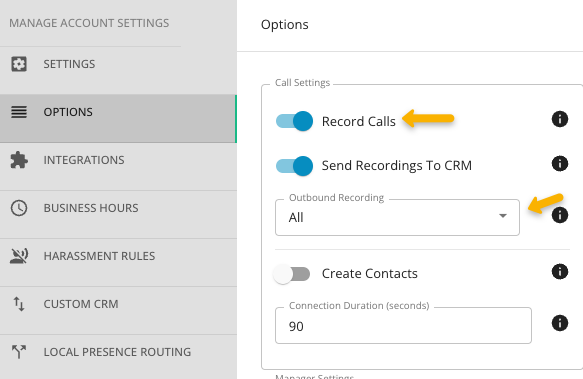 Additionally, you can do the following for your account:
1. Disable call recordings for all outbound calls (only inbound calls will record going forward)

2. Disable call recordings to area codes in two-party consent US states only (everything else will record going forward)

Also, within a certain agent's profile you can:
3. Disable call recordings for a particular agent(s) on the account
In the agent's profile->Edit, turn "Record Calls" on/off
Best practices when keeping call recordings ON but remaining as compliant as possible:
For outbound call recordings, turn "two party" ON so two-party consent calls only won't record

or you could elect to leave ALL outbound calls (default) to record, and then train reps to announce themselves on outbound calls like this:

"Hey this is Andrew from XYZ calling on a recorded line, how are you doing today?"

For inbound call recordings, you can record greeting messages for your inbound lines which state that the call will be recorded for quality assurance before the call is routed. To ensure this, in the Kixie dashboard navigate into any/all ring groups, queues, IVRs or agent direct lines that you want, and insert a greeting message within their settings which will play before any ringing begins.
14
-2
Was this article helpful?
6 out of 14 found this helpful