The "Next Action" feature in Kixie's PowerList settings automates the flow of your contact's phone numbers across different PowerLists based on call attempts and specific criteria.
This feature is designed to enhance the efficiency of sales teams by ensuring continuous and prioritized outreach to leads. With "Next Action," once a contact reaches its maximum dial attempts in one PowerList, it automatically moves to another pre-designated PowerList.
This automation ensures a seamless transition of leads from high-priority to lower-priority lists, maximizing call efficiency and agent productivity.
PowerList Configuration
Maximum Attempts Setting
Each PowerList can be configured with a maximum number of dial attempts per contact number.
After reaching this limit, and once the minimum duration before retry has elapsed, the contact number is ready for the Next Action.
Minimum Duration Before Retry
Define the time interval required before a number can be redialed within the same PowerList.
This ensures adequate time for agents to log dispositions that might remove the number from the PowerList before being forwarded to the next PowerList.
Next Action Setup
Configure PowerLists to specify which list a contact should move to after max attempts and minimum duration criteria are met.
This setup creates an automated flow of contacts from one PowerList to another based on prioritization.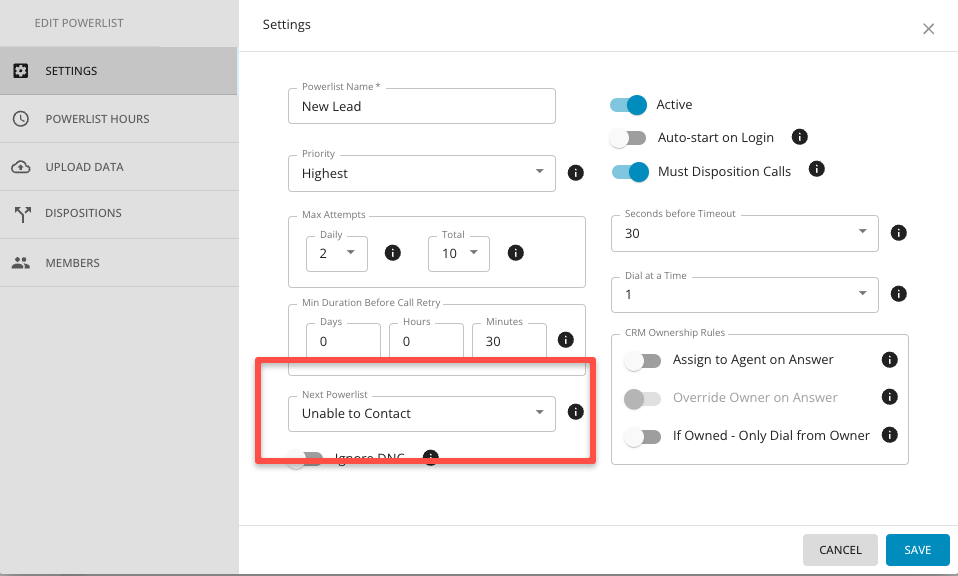 Use Cases
High-Priority Leads Management
Initial Placement: New leads are placed in the highest priority PowerList with low max attempts (1-3) and a short retry duration (e.g., 1 hour).
Progression: If not ejected via disposition rules, these leads then automatically move to a lower priority PowerList with more attempts (10-20) and a longer retry duration (2-3 hours).
Continuous Outreach Strategy
Lower Priority Flow: Contacts continue to move through PowerLists of decreasing priority.
Infinite Retries: The lowest priority PowerList can be set for infinite retries, ensuring that agents always have leads to call.
Ensuring Constant Productivity
Automation: The Next Action feature automates the lead flow, ensuring high-priority numbers are called first.
Non-Stop Dialing: Agents remain productive with a constant stream of calls, including new leads and follow-ups.
This "Next Action" feature is a critical tool for sales teams using Kixie. It helps in prioritizing new and promising leads while also maintaining a steady flow of calls to nurture existing leads. This automation ensures that agents focus on the most impactful tasks, enhancing their efficiency and the overall success of sales campaigns.
How to Get Support
Please email support@kixie.com or

chat us live

via the Kixie Dashboard for ongoing support.
0
0
Was this article helpful?
0 out of 0 found this helpful