Kixie Users can send MMS from the My SMS (Direct Phone Number) or Team SMS (Group Phone Number) SMS fields in PowerCall.
Choosing an SMS Field to Send From
When using PowerCall to send an MMS, you can send from your Direct Phone Number or a Team Phone Number:
My SMS (Direct Phone Number): This is your personal sending option. When you choose this, the recipient will see the message coming from your unique direct number.

Team SMS (Group Phone Number): Opt for this when you're communicating as a team. MMS sent from this field will appear to the recipient as coming from the collective group number.
Supported File Types for MMS
PowerCall supports the following file formats for MMS:
Attachment Requirements
Keep the following limits in mind when attaching files to your MMS:
Attach up to 10 individual files in a single MMS.
Ensure the total combined size of the attached file(s) does not exceed 4.6MB.
Ensure that the individual size of any one attached file does not exceed 0.675MB if sending to AT&T or Verizon, 1.4 MB if sending to Sprint, or 1.5 MB if sending to T-Mobile.
Attaching Files to Your MMS
There are two methods to add your files:
Drag and Drop: Simply drag your desired file(s) and drop them into the PowerCall interface.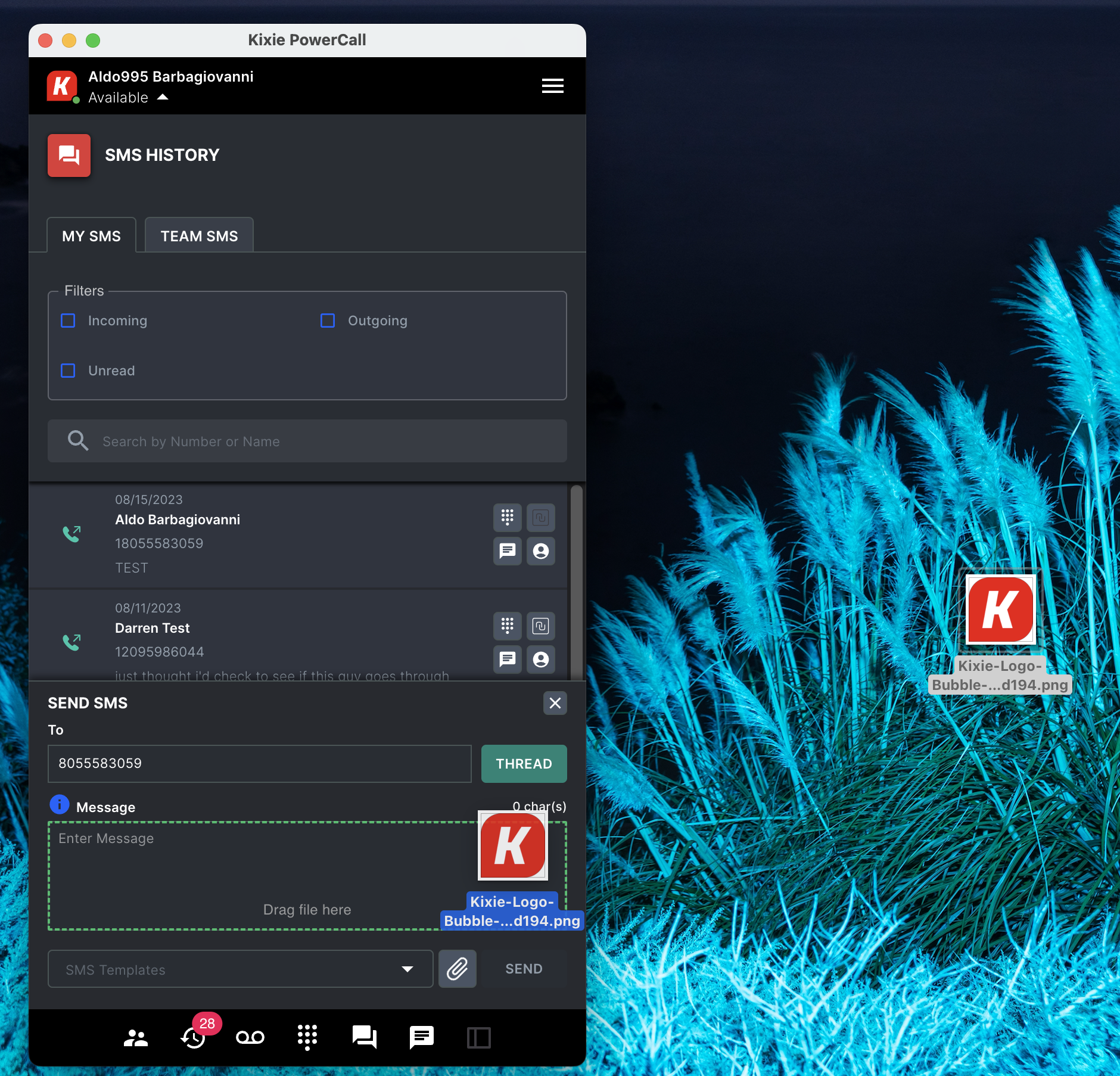 Using the Paper Clip Icon: On the Send SMS screen, press the paper clip icon. This will open a dialogue allowing you to browse and select your desired files from your device.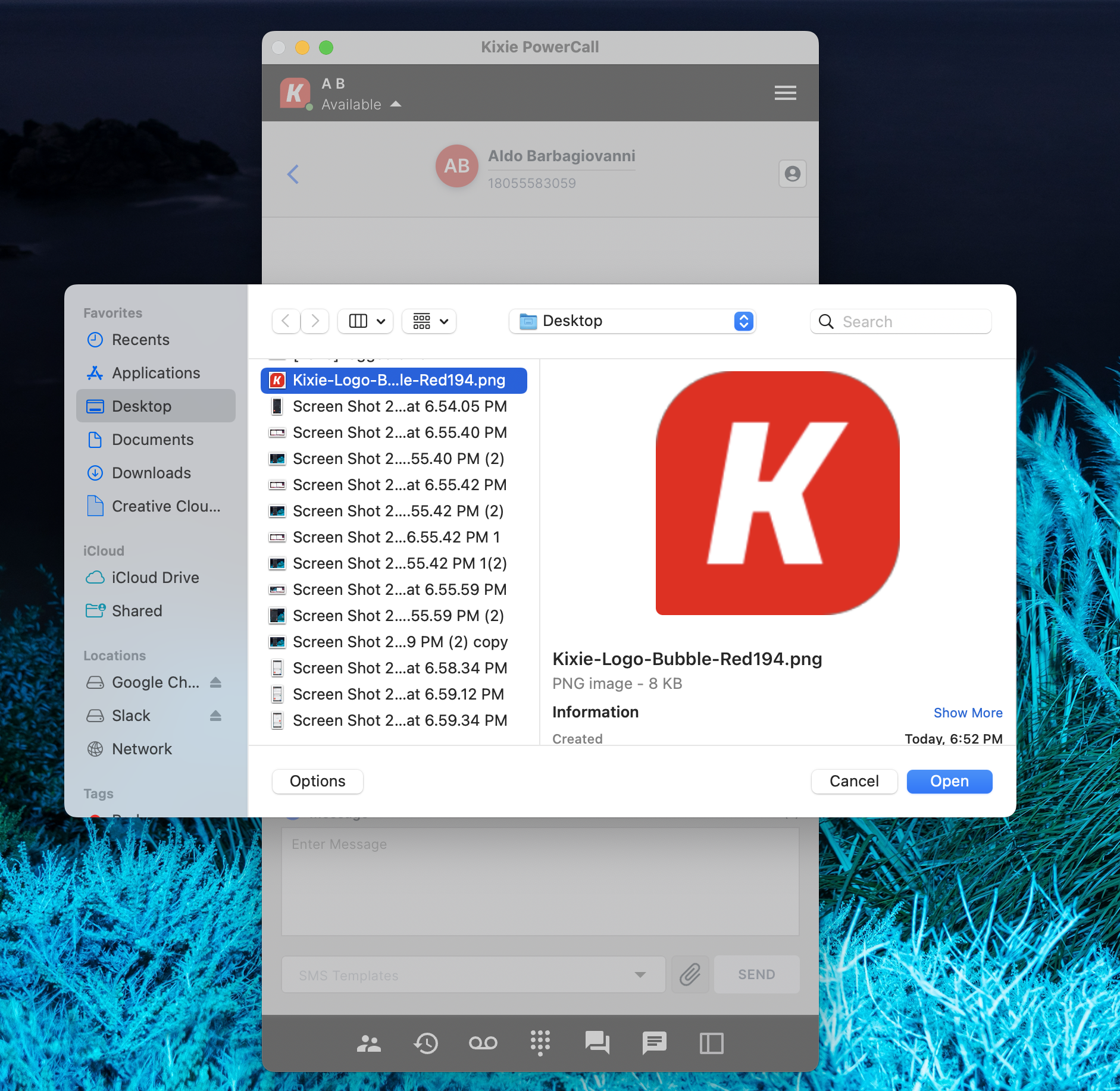 Once you've attached the files, you'll notice thumbnail previews in the message field. This provides you a quick overview of your attachments, and these previews will also be displayed in the ongoing SMS thread.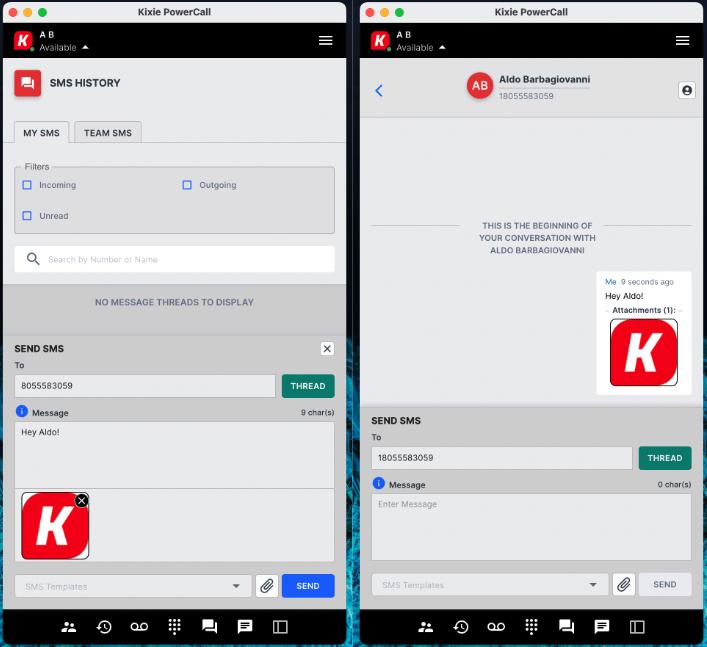 CRM Integration
MMS will be logged in the SMS Activity History section in the Kixie dashboard.
The attached file will be forwarded to your connected CRM's Contact record (integrations may vary by CRM)
Handling Failed MMS
Occasionally, transmission hiccups occur. If an SMS/MMS doesn't successfully send:
PowerCall will notify you in the SMS thread.
Alongside this notification, you'll be presented an option to retry sending the MMS.
Support
For further assistance with sending MMS in PowerCall:

log in and chat with us on kixie.com or
email support@kixie.com
To start a free Kixie trial in under 3 minutes, no credit card required, please click here. Thanks!
3
3
Was this article helpful?
3 out of 3 found this helpful