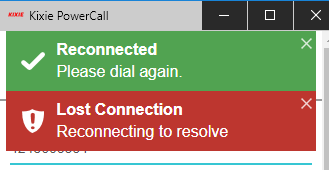 If you are unable to make/receive calls and experience this message (shown above), it means your PowerCall endpoint is becoming unregistered due to 1 of 2 things:
1) you are logged into a deactivated Kixie account 
Verify Login Credentials

Verify you are using the correct email and password

Refresh Kixie PowerCall dialer (press the Refresh icon on the top right of the PowerCall dialer)
2) you have a firewall enabled on your computer or network that is preventing your Kixie dialer from being operational 
Pull PowerCall Console Logs + Error Messages

Right click inside of Kixie PowerCall

Press "Inspect"

Select the "Console" tab

Enter a phone number into Kixie PowerCall and Start Call

Take a screenshot of the entire console

Review Error Messages and Screenshot

If you see any of the following messages, then there is a firewall and/or network related issue. Please optimize your network for use with Kixie.

For all other error messages (or if no message displays), please contact support@kixie.com or your account manager.
The easiest way to attain the Ideal Conditions for Kixie PowerCall.
8
4
Was this article helpful?
6 out of 8 found this helpful