Note: Kixie cannot provide support for programming or troubleshooting deskphones, due to the role that your internal network plays in successful programming and maintenance. Please see here for guidelines on network/firewall setup to ensure you have the proper network setup for your Kixie-configured deskphones to work.
1. On your phone, go to "14: Factory Reset" and click OK.
2. Make sure that the phone is on the same network as your computer. Then find the phone's IP address, enter it into your web browser, log into the phone's web configuration portal on your computer.
if the IP address does not work (site can't be reached), then try entering https:// or http:// before the IP address, i.e. https://192.168.1.1, click advanced, and then proceed to the site anyway.
3. To provision the phone, you will need to have created a new Kixie device within the kixie.com dashboard inside an agent's profile->devices and routing->devices->add Kixie device (deskphone)->submit. If you want the phone to ring when this agent's direct line is called, be sure to highlight it under "devices to ring" and hit save changes.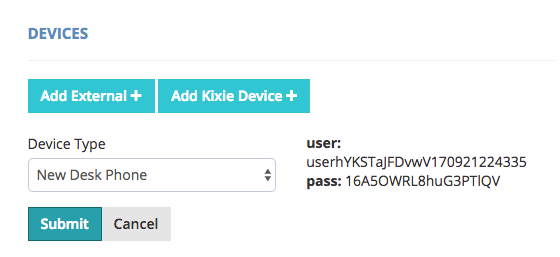 Adding the device will yield you a unique username and password (pictured above) to use in the following step.
4. Under Admin Login "Basic Settings -> Ext 1"
Set the following settings:
Line Enable: yes
NAT Mapping Enable: yes
Proxy: phone.plivo.com
Register: yes
Register Expires: 300
Display Name: Kixie
Password: <password>
Auth ID: <username>
User ID: <username>
Use Auth ID: Yes
Preferred Codec: G711u
SIP Port: 5060
Then click "Submit all Changes" at the bottom of the screen.
3. Under "Advanced Settings -> Ext 1" make sure the following settings are set to:
Proxy: phone.plivo.com
Outbound Proxy: phone.plivo.com
SIP Transport: TCP
And then click "Submit all Changes" at the bottom of the screen.
Your phone should now be configured to be able to receive and make calls.
Optionally you can change the display name that appears on your phone by going to Phone Tab > Line Key > Short Name and replacing "$USER" with any text you like.
4
2
Was this article helpful?
3 out of 4 found this helpful