Kixie Always Syncs to the Lead/Contact First:
Depending on how the call was initiated, there are two ways that Kixie will find a person to sync to…
DirectSync: For

click-to-calls made to a lead/contact from inside a lead/contact's page

,

or from a lead/contact list-view

, Kixie will sync the call directly to that lead/contact.
Normal Sync: For

SMS messages, and phone calls that are made or received in any other way than above

, Kixie will search your Insightly CRM contacts for the lead/contact whose default phone number field(s) yields a match to the phone number, and then automatically push the call or SMS activity inside of that contact. If there are multiple leads/contacts that yield a match, Kixie will sync to the oldest one, with priority given to contacts.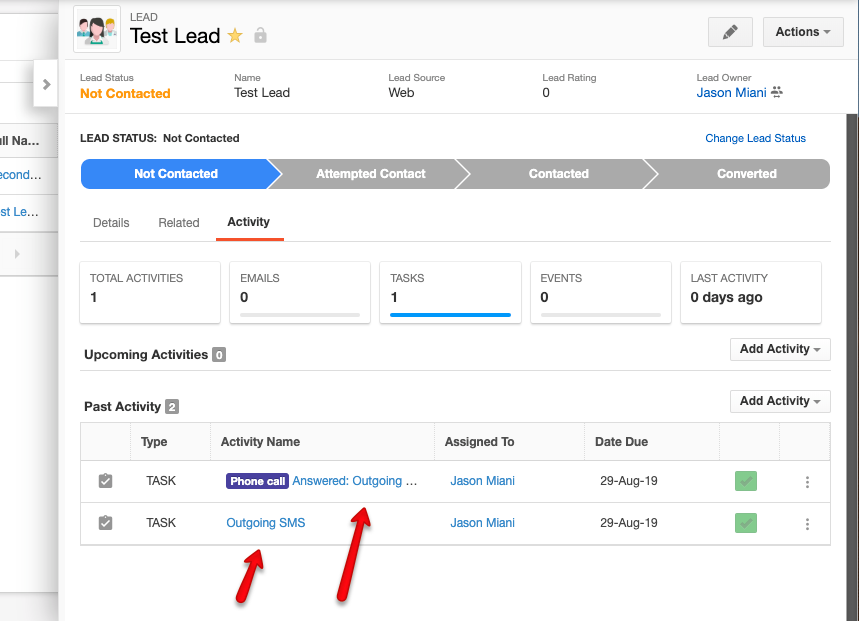 Automatic Lead Creation
If you are calling/being called by a phone number that is not associated with a contact in Insightly CRM yet, Kixie will automatically create one inside of Insightly CRM, and sync calls to it.
*This feature may be disabled for your whole account if you so choose, inside "Manage Account" in the kixie.com dashboard.
The Kixie PowerCall and Insightly CRM
The Kixie PowerCall is a phenomenal sales tool. It functions as an enhanced, Insightly CRM-driven caller ID, as well as a shortcut into Insightly CRM.
All actions taken inside the PowerCall will sync in the manner described above. Here are the actions you can take:
View the person's basic Insightly CRM information, and click directly into the lead/contact.
Edit the contact's basic information in Insightly CRM
Compose a note or call disposition that logs inside the lead/contact.
Schedule a future activity (like a follow-up call) that logs inside the lead/contact
This functionality lends itself especially well to contact list-view dialing, as well as when you are receiving incoming calls.
2
-2
Was this article helpful?
0 out of 2 found this helpful