How Do I Control Which Sites My Click-to-Call Appears On?
Initial Setup
Open the Kixie extension page directly via chrome://extensions and click details or by right clicking the red K icon in the top right corner of Chrome->Manage Extensions.
Under Site access, Choose the"On specific sites" option.
Please add the following URLs to ensure that your dialer fully functions.
*://*.plivo.com/*
*://*.kixie.com/*
https://datatables.net/*
https://app.kixie.com/*
https://www.google.com/*
https://*.callstats.io/*
How to add additional sites automatically
After adding the Kixie urls to the list, you can easily enable click to call for a specific site by doing the following:
1. Press the raised circle with the red K inside of it (as shown).
2. Reload the page following the Google Chrome instructions. Then Click to call will be enabled on the site.
Starting Kixie calls from Chrome when the Click-to-Call icon doesn't appear
Highlight and Right Click on any phone number inside of Google Chrome
Press Kixie
Choose "Start Call"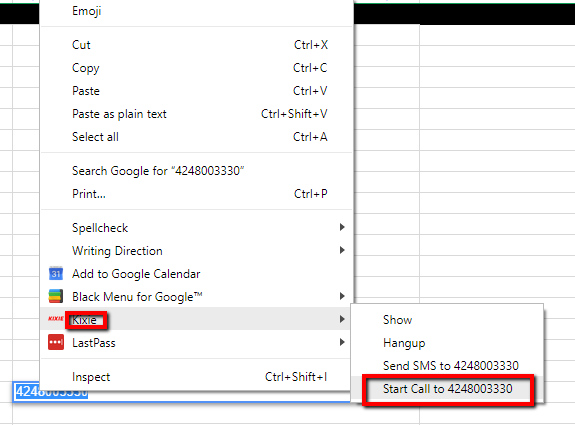 Click-to-call with Google Sheets
Click-to-call populates on almost every webpage you visit in Google Chrome. However, the Click-to-call icon does not appear next to phone numbers in spreadsheets.
In Google Sheets, you can populate the the Click-to-call icon by publishing your Google Sheet as a webpage.
Follow the steps outlined here on the Google Docs help page.
Note: you have the option to control the privacy settings when publishing. Follow these steps carefully to ensure your information stays private to you and your organization.
1
1
Was this article helpful?
1 out of 1 found this helpful