How to Program a Polycom with Kixie
Note: Kixie cannot provide support for programming or troubleshooting deskphones, due to the role that your internal network plays in successful programming and maintenance. Please see here for guidelines on network/firewall setup to ensure you have the proper network setup for your Kixie-configured deskphones to work.
How to Program Your Polycom:
1. Make sure that the phone is plugged in, and that it is on the same network as your computer.
2. Perform a factory reset on the phone first.
3. Gather the phone's IP address.
From Home/Menu, select Status.
Select Network.
Select TCIP/IP Paramters.
The IP address is a string of numbers such as 192.168.1.1
4. Enter the IP address into your computer's web browser as if it's a website. Then at the login screen, enter the password: 456.
if the IP address does not work (site can't be reached), then try entering https:// or http:// before the IP address, i.e. https://192.168.1.1, click advanced, and then proceed to the site anyway.
5. Once logged into the phone, navigate to Settings->SIP:
Then navigate to Server 1:
Address/Server: phone.plivo.com

Port: 5060

Transport: TCPpreferred

Expires: 300
Under "Lines":
Note: you will need to have created a new Kixie device within the kixie.com dashboard inside an agent's profile->devices and routing->devices->add Kixie device (deskphone)->submit. If you want the phone to ring when this agent's direct line is called, be sure to highlight it under "devices to ring" and hit save changes.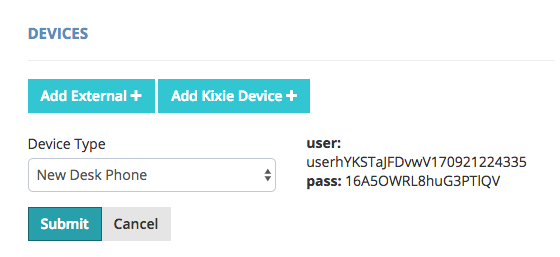 Adding the device will yield you a unique username and password (pictured above) to use in the following step:
Address: <username>

Authentication User ID: <username>

Authentication Password: <password>

Label: anything you like, as it will appear on the phone's LCD
4.
Here is how to transfer calls. Please bear in mind that this functionality is limited on Kixie's platform.
If your phone is still not receiving calls, or click to call does not work:
Please fill in the Local SIP port field with a number greater than 50600, such as 50602. If you are provisioning multiple phones, make sure each phone's local SIP port is a unique number.
Please see here for guidelines on network/firewall setup to ensure you have the proper network setup for your Kixie-configured deskphones to work